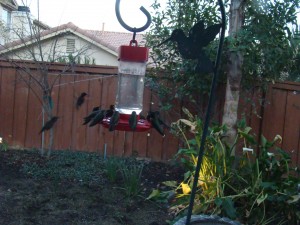 I snapped this photo last night from my family room window. We are looking into the backyard. It's twilight in this scene. It's the mad rush of the Hummingbirds.
If you know an unbeliever this is a good story. If you are a believer, this is a GREAT story. Let this tiny bird reveal some very BIG things about our God! Read the entire post at Laced With Grace, The Hummingbird Atheist.
Here are a few more photos I snapped last night.
*****
Share your voice, heart and love in the comments.

Marching Around Jericho is a spiritual guide. As you read through the pages, powerful and transformative instruction and equipping takes place. We follow Jesus as he leads us around the walls, imparting kingdom truths with each passing, finally arriving at the gates of the walled-off city, our spouse's unbelieving heart. After the circles in prayer are complete, we arrive fully prepared to command the walls to crumble and be removed, making a way for our spouse to step from the rubble of lies and captivity, into faith and freedom!
comments powered by

Disqus