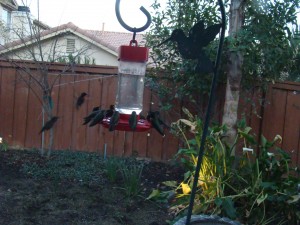 I snapped this photo last night from my family room window. We are looking into the backyard. It's twilight in this scene. It's the mad rush of the Hummingbirds.
If you know an unbeliever this is a good story. If you are a believer, this is a GREAT story. Let this tiny bird reveal some very BIG things about our God! Read the entire post at Laced With Grace, The Hummingbird Atheist.
Here are a few more photos I snapped last night.
*****
Share your voice, heart and love in the comments. 
Lynn has wonderfully mapped out the steps we all need to walk through to develop and grow this vital relationship with Him. This was the Lord's intent for her transformation journey all along, and His intent for you too. Here she has spelled out the spiritual truths behind the principles and talked us through how she applied them. These truths are universally applicable to us all, though as the details of our lives, situations and hearts will be different, we will apply them differently. - Reader Review from Barnes & Noble.
comments powered by

Disqus