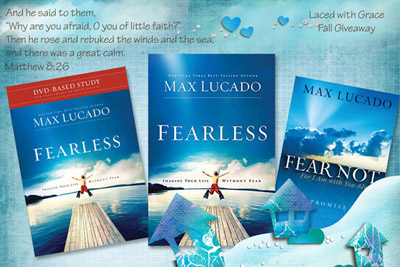 Material from Kitty Designs' kit "Dream of a Blue Sky"
And he said to them, "Why are you afraid, O you of little faith?" Then he rose and rebuked the winds and the sea, and there was a great calm. ~ Matthew 8:26
They're talking layoffs at work, slowdowns in the economy, flare-ups in the Middle East, turnovers at headquarters, downturns in the housing market, upswings in global warming...Imagine your life, wholly untouched by angst. What if faith, not fear, was your default reaction to threats? (text taken from Max Lucado's website)
To find out more about the book itself, please visit our very own Lori from Lori's Reflection. She read the book so she can share her thoughts with us: Fearless by Max Lucado.
Now to the niddy-griddy part of the giveaway. The package includes: Fearless - Hard Cover, Fearless - DVD Study, and the Fear Not Promise Book. You have four chances to enter your name into the drawing. Wondering how to get your name four times into the drawing -- pretty simple...
Please leave a comment on the giveaway post over at Laced With Grace. The giveaway will end next Tuesday, September 15th (midnight - EST) with the winner to be announced on Saturday, September 19th.
Remember, for God gave us a spirit not of fear but of power and love and self-control. 2 Timothy 1:7
Read Dineen's latest post: The Attitudes of Waiting, Part I