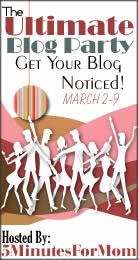 Welcome all Blog Party Visitors. I hope you are having fun and are meeting many new wonderful friends. I sure am. I want to share with you a little bit about this site and about myself.
I have a passion for other sojourners who are navigating the unique challenges of an unequally yoked marriage. I write from practical experience about marriage and spiritual singleness. SUM is also blessed to have many contributing writers as well. Wise men and women who also have life experience in a spiritually unequal marriage.
In addition, many of the readers here are also part of an online study 1Peter3Living. Stop in for a visit. We have wonderful fellowship, offer encouragement, love and prayers for each other.
I also am a contributor at Laced With Grace where I write devotions every Friday. Check out today's article. I need bullfrogs and mud pies.
Beginning next week I will also contribute to Christian Women Online, Jehovah Java Internet Cafe.
I love Jesus intensely and live to encourage others to find love, peace and contentment in Him just as I have. Blessings my friends.
Party On....

*****
Share your voice, heart and love in the comments.

Marching Around Jericho is a spiritual guide. As you read through the pages, powerful and transformative instruction and equipping takes place. We follow Jesus as he leads us around the walls, imparting kingdom truths with each passing, finally arriving at the gates of the walled-off city, our spouse's unbelieving heart. After the circles in prayer are complete, we arrive fully prepared to command the walls to crumble and be removed, making a way for our spouse to step from the rubble of lies and captivity, into faith and freedom!
comments powered by

Disqus